In Dog Care today, Gryff began his agility training in the school quad.
We started with the tunnel using the command 'tunnel' – which Gryff took to quite quickly.
Then we introduced him to the jump using the command 'over'. The students learned how rushing to push the bar up too quickly resulted in him taking the easier 'limbo' route, but they worked hard to correct him.
Finally, we started the learning progression for the tricky 'weave' obstacle but we didn't push Gryff too much as he had worked hard this morning and we didn't want to overload him. It's really important to make learning and training fun forGryff.
Well done everyone, especially Gryff.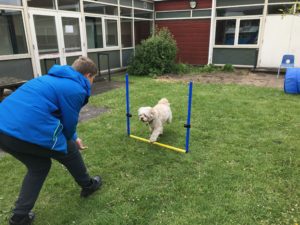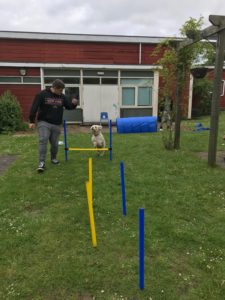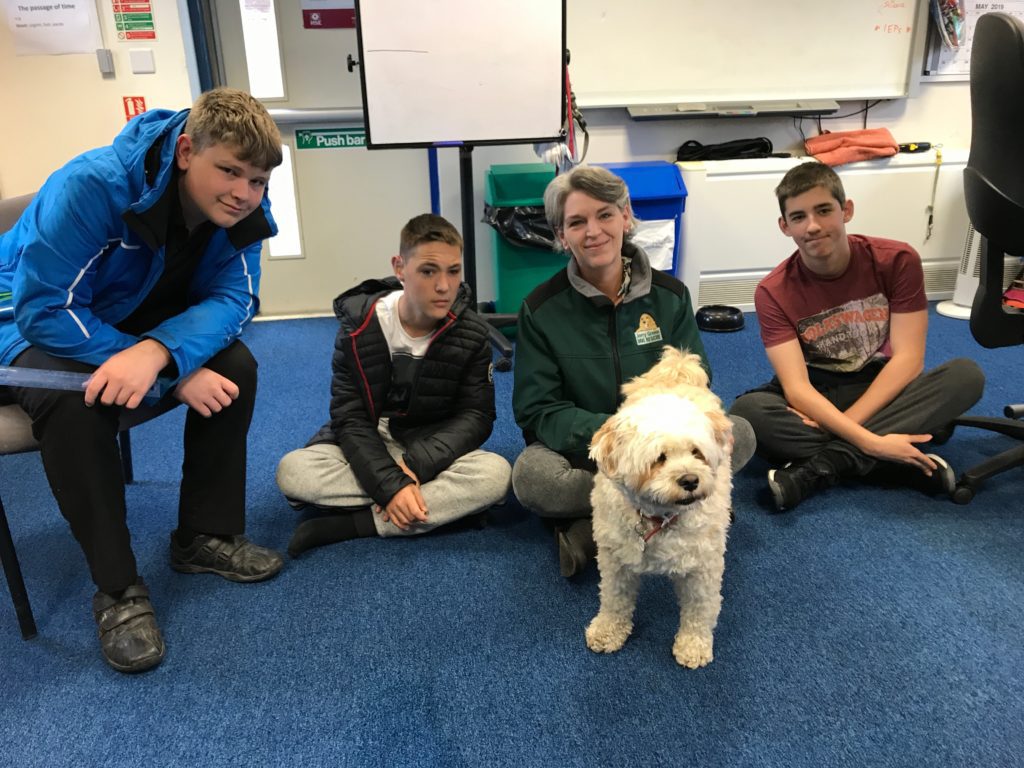 For the best part of a year, Martina Martin from Jerry Green Dog Rescue in Nottinghamshire, has been kindly visiting our Friday Dog Care option group to share her knowledge and experience of dogs and the working life of a centre manager. Her visits are always interesting and enlightening – today we learned how dog owners' behaviours can influence their dogs' behaviours, how to refine a dog's recall performance and what you can learn from a dog by looking at its poops!
Gryff, our resident school therapy dog – and an ex-Jerry Green rescue dog – is always a topic of conversation, and it was lovely to hear Martina talk about how she has seen Gryff develop over the months since we have had him. Martina also commented on just how knowledgeable the Dog Care students (6 of them in total) have become since studying for their Professional Dog Walker qualification this year. The group are genuinely passionate about dogs and work really hard to develop their understanding dogs and their behaviours.
So, thank you Martina, well done Dog Care students and of course, 'good boy' Gryff… you deserve a tasty treat or two for your progress this year.
Woof, Gryff here!
Welcome to my Dog Log, or Dlog. This is post 2.
Wowzers, what a first half term I've had! Not only have I settled in nicely – and stopped chastising the guinea pigs – I've also been attending more lessons (and been off my lead a lot more).
OK – when I signed up to be a school dog, I never actually expected to have to attend lessons and look interested! As you can see, I've been working hard and even improved my touch-paw typing skills.
As all of the students know though, my favourite time at school is when I'm 'busy' getting fussed and cuddled. I really love it when students see my around school and come over for a chat and hug – I never get sick of hugs and tummy tickles. It makes me happy and it also seems to help the lovely students too (especially when they might be angry or anxious).
Well, I'd better go now – I know it's not a school night but we all still need to get plenty of sleep to stay healthy and happy. Oh, and if any students are feeling a bit mixed up by the change of routine a 'forced holiday' brings, rest assured: dogs are creatures of habit too (so I feel a little disorientated too).
Anyway, not many more sleeps until we're back at school.
Be good, be happy, and when we're back at school, if you're ever not feeling great, come and see me and I'll cheer you up.
Woof for now!
Gryff!