Derrymount School
Please see the remote learning page for details about how to log in to your lessons from home.
---
Please read the letter to parents from the Head teacher
Pupils with any of the Covid symptoms must not come to school. These are a new continuous cough, a high temperature, a loss or change in sense of smell or taste.
See the NHS page for more information.
Skin rashes may also be a symptom, along with headache, fatigue, fever, sore throat and loss of appetite
Following government advice we are implementing emergency measures
To contact Cathy Clay, the Head Teacher and Designated Safeguarding Lead, please email head@derrymount.notts.sch.uk
To contact Wendy Page, the School Business Manager, please email sbm@derrymount.notts.sch.uk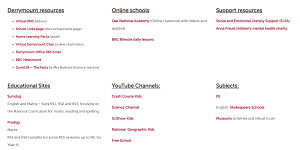 (links to all the information for learning and support at home, videos, websites, files)
Safeguarding during current restrictions
Derrymount School Covid-19 policy
At Derrymount the safety of pupils continues to be of paramount importance.
Our Designated Safeguarding Leads are: Cathy Clay and Shirley Burman. One of us will be in school whenever there are pupils onsite and are available to discuss any concerns on the Churchmoor site's phone number 0115 9534015. If the school is closed on particular days Cathy can be contacted by email: head@derrymount.notts.sch.uk
Support
We will continue contacting families on a weekly basis to keep in touch – in the first instance by phone but if we haven't managed to speak to you we will email instead. We are aware that this is an anxious time for pupils and their families so please do contact us if you feel you need support.
Cyber Safety
At this time, when pupils are likely to be accessing the internet / social media more frequently, it is more important than ever to be aware of cyber safety.
As well as information on our website the following may be particularly useful to support families: