Alan Langton of Arnold Parochial Charities, someone we are extremely grateful to for supporting the development of our Adventure School (see previous post), helped reintroduce DMS with the Mapperley and Arnold Rotary clubs (who, a few years ago now, very kindly provided the school with a 16-seater minibus).
Reconnecting with Rotary – and further funding support from APC and Mapperley and Arnold clubs – has being nothing short of amazing!
After a brief presentation to Rotary about an aspirational idea to provide an Onsite Alternative Provision service for students who would benefit from more 1:1 pathway-led learning opportunities in areas such as construction, mechanics, and/ or participation in outdoor personal development focused activities, the dream had a chance of becoming a reality.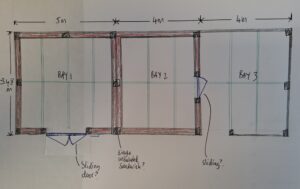 Long story short, a simple sketch for a pretty basic shelter in which students could engage with hands-on practical study towards a range of vocational BTEC units, is materialising as a concrete-floored, roomy 3 bay workspace that will, once finished, be powered, lit and heated.
Thanks to the hard work and commitment of a bunch of Rotary members, particularly Chris Rollinson who has PMed the project and sourced the materials and mobilised Rotary members, over several months, the building is well on the way to completion. And huge thanks to D & J Projects for their hard work digging out an uneven space with an awkward bank, installing a retaining wall and soak-away and laying a large concrete base. They provided materials at cost and volunteered many hours of labour in order to kick-start the project. Without everyone's kindness and passion for our project, none of this would have happened.
The gallery below shows the progress from start to the current progress. More updates will follow as we move nearer to completion.